Our program has been designed to offer your family convenient features such as autopay (required), make-up classes, adjusted tuition, and no contracts.
Registration
A $40.00, annual, non-refundable registration fee is due at sign-up. This fee covers all administrative changes required to a family's account for 12 months and includes a welcome bag for each family.
Pricing
Our tuition is billed monthly and is based on the calendar month. The prices are adjusted to reflect how many lessons your student receives when there are extra weeks or holidays in the month, as shown below.
Tuition per lesson
Group: $26.25 - 30 minute class
Private: $49.75 - 20 minute class
Please note: Tuition is adjusted and pre-paid on a monthly basis. Payments will be withdrawn from your autopay account on the 1st of every month.
Understanding Price Adjustments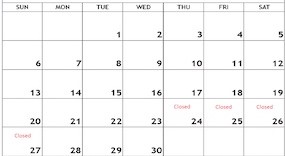 Price of lesson x # of scheduled lessons in the month = monthly cost
Students enrolled in our program attend the same class and day every week. Based on this calendar example, students enrolled in:
Monday classes will pay a tuition of $105.00 for 4 classes
Tuesday classes will pay a tuition of $131.25 for 5 classes
Thursday classes will pay a tuition of $78.75 for 3 classes due to a holiday closure from the 24th to the 27th
Important Dates to Remember
20th of the month- Statements for the following month are sent via email
Last Day of the month- Written cancellation notices are due
1st of the month- Monthly tuition is drafted from the card saved in Autopay
Membership Benefits
Once you have paid the registration fee and enrolled in lessons you have become a Swimming Safari member!
Continuous enrollment - Stay enrolled in your classes month-to-month
Convenient autopay - A card is required to be kept on file and will be withdrawn from on the 1st of every month
Cancel at any time - Submit a cancellation form before the 1st of the next month to be withdrawn from autopay
Makeup lessons - We offer one make-up lesson per month per each weekly enrollment
Have Questions?