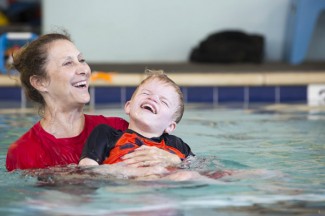 Swimming Safari Swim School knows how important it is for children with Special needs to learn to swim and stay safe. We offer swim lessons to all children no matter what their strengths or limitations are. We are proud to have the opportunity to work with your child!
Qualifications: For a child to qualify in our "special" program, they must first be evaluated by one of our instructors to see:
Their water abilities
Their ability to work with others or alone
Their ability to communicate with the instructor
Enrollment: Once evaluated the student will be placed in either a group class with other students on their level, or in a group lesson with their parent/caretaker so the parent/caretaker can learn how to work with their child in the water. All children must have permission from their doctor to participate.
Length of Enrollment: Each student will be able to progress at his or her own pace. While some students will be able to swim across an entire lane, others will be working on survival skills. When reaching a certain level, children will be asked to join a regular class, which will encourage strengthening their skills & progression.
Price: We charge the same rate as we do all our students. For more information on pricing and billing, please click here.
Grants: We are always looking for Grant money to help you cover the cost of lessons! As we receive money, we try to rotate the recipients so that each child has a chance to receive free lessons.