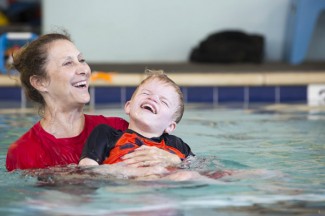 Swimming Safari Swim School knows how important it is for children with special abilities to learn to swim and stay safe. We offer swim lessons to all children no matter what their strengths or limitations are. We are proud to have the opportunity to work with your child!
Class Format: We offer several different Special Abilities class formats. The first is our Special Abilities Private classes which are taught in a 1 on 1 setting without parents in the water. Our second option is our S.E.A.L. (Special Education Assisted Learning) classes which are taught in a group setting with parents in the water. Finally, we believe that certain special abilities students are better suited to be mainstreamed in our traditional classes.
In order to best place your student we suggest contacting our office.
Length of Enrollment: Each student will be able to progress at his or her own pace. While some students will be able to swim across an entire lane, others will be working on survival skills. When reaching a certain level, children will be asked to join a regular class, which will encourage strengthening their skills & progression.
Price: Special Abilities Private- $47.25 or SEAL Class (parent and me) - $24.75
How to get started: The first step is to contact our office to discuss what program will best suit the needs of your swimmer. Phone: 904-260-1836 or Email: swim@swimmingsafari.com
Special Needs Grant Sponsors: